The Wreck, Section 1
The following pages are direct copy and paste's from PracticalMachinist.com.  They outline one of the finest rebuilds of Monarch 30 inch 10EE's on the internet.  The original post can be found here:
I am including this on my blog because these were the two posts that gave me the confidence to embark on my own personal 10EE project and I base most of my decisions on these two posts.
10-03-2007, 09:42 PM – beckley23
I don't know if I should praise or curse Rex(LCA078). I inspected this lathe several weeks ago at his request. I also told him that I would buy it if he didn't, sight unseen. He obviously didn't buy it, but I'll let him tell the story, if he wishes.
Got my new EE today, and it's a project, about ready for the parts market, but it's a 30″er, and I'm not one to scrap a 30″er. Besides, I want to try a few things with it. Oh yes, it's the mate to my 1st one. They both came out of the same manufacturer, but they're 2 years apart on serial numbers, this one being a '64. At least on this one the DC electrics are intact, I'll find out if it runs, eventually. I also got the original module for my 1st one along with the tubes, which I think are new. Rex, I didn't look at the tubes, until the lathe was on my floor.
Besides the obvious cosmetic work it needs, and the broken TA carriage bracket, the tailstock spindle is frozen solid(most likely rust), the apron handwheel is broken and needs repair or replacing, I can't get the thread selector on the headstock to shift, it needs a feed belt, and several other repairs, hopefully minor, from what I can tell so far.
The machine most likely needs a reconditioning, apparently the rebuilders that did my 1st one, for the original owners, did this one also, and it was a terrible job.
The chucks are very questionable. I know that the 8″ 6 jaw will be offered for sale, the 8″ 3 jaw may stay here, but not on the EE, and the 6″ 4 jaw is well rusted, I don't know yet if it can be salvaged.
The damage was done when the seller's rigger, a wrecker service (?), was unloading and it rolled over on the rear.
It hasn't run in at least 6 years, and the end covers were removed for rigging. I've got them in a different shop area.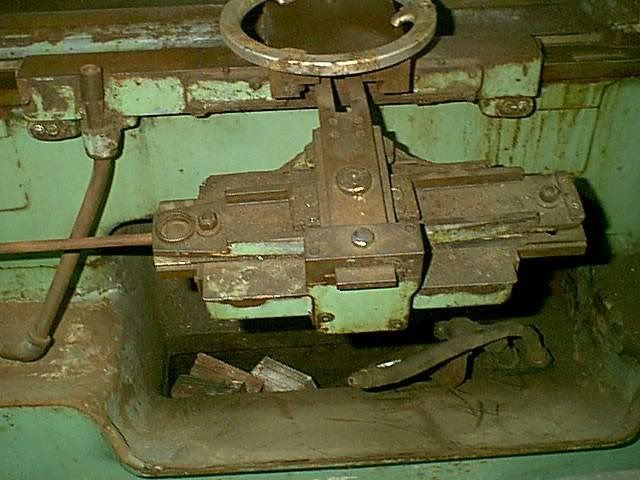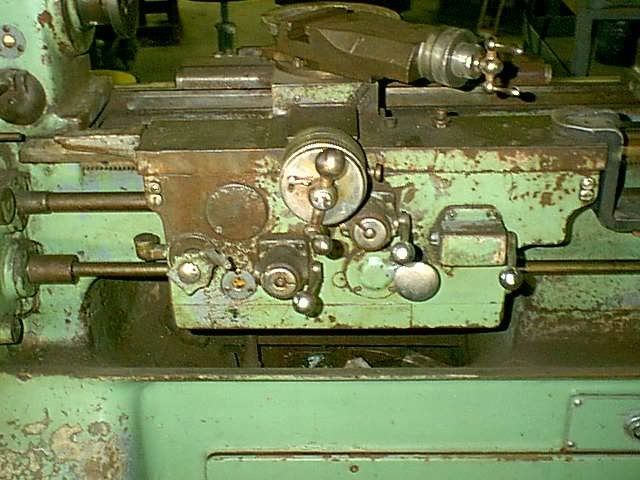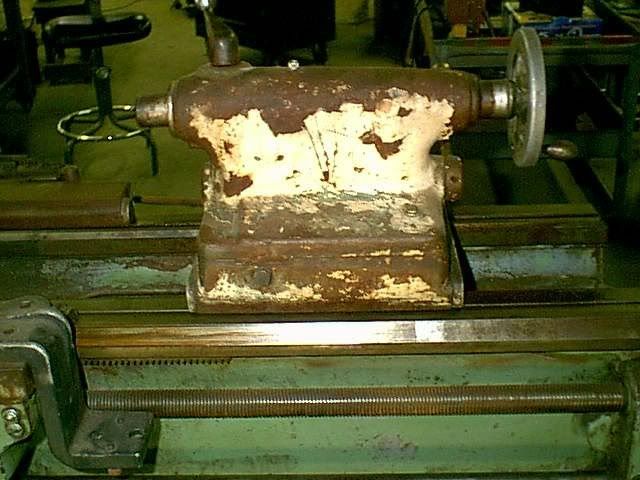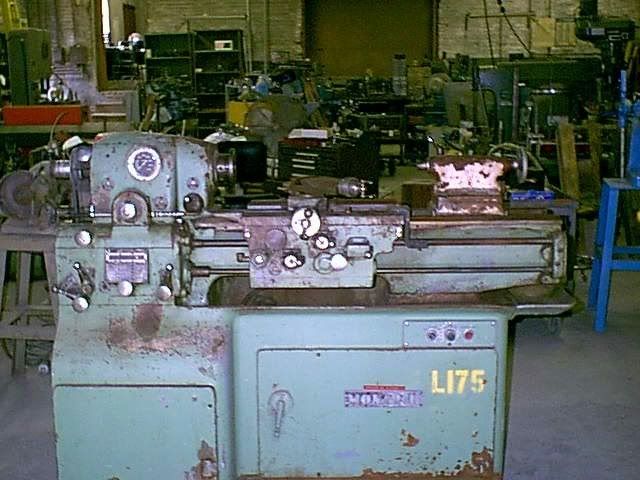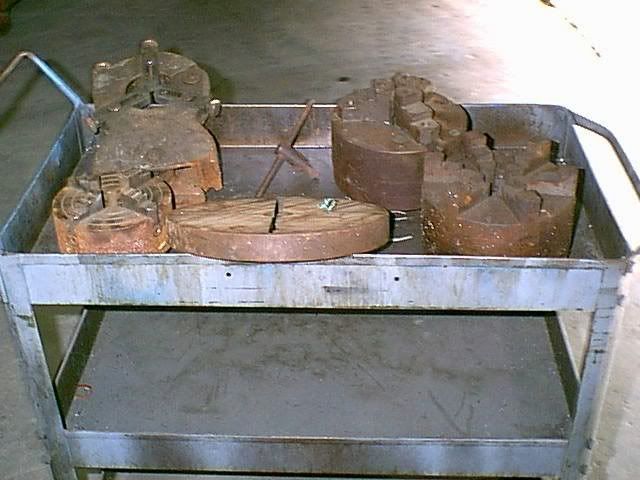 Harry
10-03-2007, 10:22 PM – macona
Poor thing.
Looks like you will get to replace the cross slide leadscrew as well and the clamp plate that attaches to the TA.
I think you will want to start looking for another casting for the TA. Either that or turn it into a non-taper unit. Welding I dont think would be a viable option and I dont think there is enough meat in that area to run pins and bolts.
Youve got some work ahead of you!
10-03-2007, 10:58 PM – Toms Wheels
I'd think exciting would be the first word by the look of it. There might well be a lady under that grundge. I like the look of the 30 inch bed.
10-03-2007, 11:36 PM – rimcanyon
Harry, I've got a taper attachment with the parts you'll need. Contact me if you're interested. A trade might work fine.
-Dave
10-04-2007, 12:16 AM – rke[pler
Did they *really* manage to bend the quill on the tailstock? It's got to be an artifact of the image or something….
Looks like a lot of work.
10-04-2007, 12:40 AM – usmachine
Poor little fella, I bet he didn't do anything to deserve such a fate. 🙁
10-04-2007, 12:42 AM – beckley23
I think it is the photographer. I was messing with the tailstock this afternoon, it is on the priority list, and didn't notice anything unusual, but I will definitely look at it again.
I'm looking at this as a "fun" project. It's not going to be a fast one, as I don't have a pressing need for this machine.
Dave, check your PM.
Harry
10-04-2007, 01:45 AM – 220swift
Harry
Looks like it will keep you out of trouble for awhile.
Be sure to take pictures .
Hal
10-04-2007, 12:18 PM – daryl bane
You have my condolences. If you can find one of those Redi-strip type places, where they lower those rusty,crappy pieces down into boiling vats. When they come out all nice and rust-free. Then it starts to get fun. 
10-04-2007, 05:20 PM – macona
Get a few cans of "aircraft remover". Works miracles. Spray it on (I got the aerosol cans) and wait 15 to 20 minutes and the paint will almost fall off. I used a brass brush to help it along. Usually it wont take the filler with it and that is a good thing.
How are the ways on this machine?
Did you look in the backside under-compartment? The easter bunny may have hidden a set of metric gears in there a long time ago.
10-04-2007, 10:31 PM – Lca078
but I'll let him tell the story, if he wishes
Just got back from Dallas (Commerce Grinding) today but I'll write some here before I write about the 612 grind job.
The story:
A couple months ago, I was browsing the net and stumbled across a 12″x30″ Monarch lathe for sale in Louisville, KY. Knowing that Monarch really didn't have too many 12″ lathes outside of the EE's, I called the seller (for giggles) just to see if it was what I thought it was. I asked him about the lathe and it was fairly apparent that he didn't know much about Monarchs. I then asked him if he could read the model and serial number off the tag for me and that's when it was confirmed it really was a 30″ EE for sale and not just any old 12×30. The serial number also sounded familiar so I looked at my EE, also a 30″, and noticed the serial numbers were 9 lathes apart. The EE for sale was made in late Jun '64 and mine was made in early Jul '64 so both these 30 EE's were from the same batch. I was intrigued and there was enough free stuff (chucks and whatnot) to make it worthwhile. Well, it also just so happened that I had business at FT Knox, KY (just outside of Louisville) so I decided drive up there, load the lathe in my truck, and drive back to Texas as my trip would be paid for. (Yes, I have an older F350 diesel worktruck just for such heavy hauling/towing.) In the meantime, I contacted Harry and asked him to inspect the lathe as a favor for me. He graciously did and gave me an honest assessment of it, which wasn't too pleasing 
 as you can tell from above. I also asked if he would be interested in it if for any reason I couldn't pick it up. He said he wanted dibs if I passed.
Now fast forward a month:
When I was finally able to confirm my trip to Knox, ,I drove to Dallas for a couple days to help a buddy with his project car. While there, I decided to replace my differential fluid before the long trip. Low and behold, I snapped a diff cover bolt and was seeping fluid regardless of what I tried. Problem was that I would not be able to wait a day or two to fix my own breakage and still make my meetings at Knox so I decided to fly and see if I could ship the lathe. Well, unfortunately, shipping costs would make the lathe a losing proposition so I relinquished the lathe to Harry.
The main reason I wanted the EE was because it was a 30″ and I would dedicate it to chucks and metric change gears, keeping my original EE for collets and other precision work. And yes, because it came from the same batch as mine, I thought it would be cool. But as fate would have it (and a broken 5/16″ diff cover bolt during the weekend), Harry ended up with my 'mess'. I hope the modular drive is workable and Harry only has to polish up the lathe (and fix the tailstock, drop the saddle, find some handles,etc…) 
I do want to say that I really appreciate Harry going out of his way and inspecting a lathe for me, a stranger. Before I left KY, I did stop by Harry's shop where we shook hands and swapped stories for a while. I even was able to get a first hand look at his beautiful CK (the one he handscraped) and the other goodies (like the home made but extremely professional looking follower rests)that abound in his shop. I had a great time on my trip and wish Harry the best.
Rex
10-04-2007, 11:06 PM – beckley23
Did a lttle more dis-assembly today. I did find one of the spokes for the handwheel in the sump, got the tailstock spindle out and it's straight, but don't know how good it is. I'm going to have drill out the screw attaching the cross feed nut to the cross slide in order to seperate them. This is one of the dirtiest machines I've taken on, I'm not surprised by the number of bearings, thrust and ball that need replacing. I even saw a carriage gib bearing without the outer race, one of the TA bearings with a free floating shield, etc, etc.
I did get the headstock thread/feed selector to work today. Apparently the interlock on my 1st EE doesn't and this one does. Just a matter of which lever gets shifted first.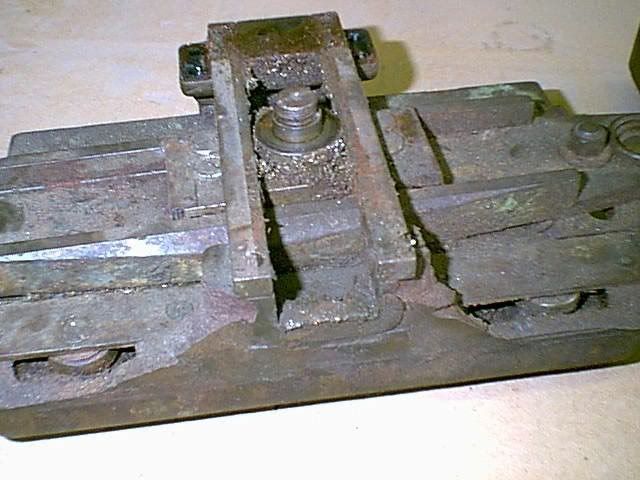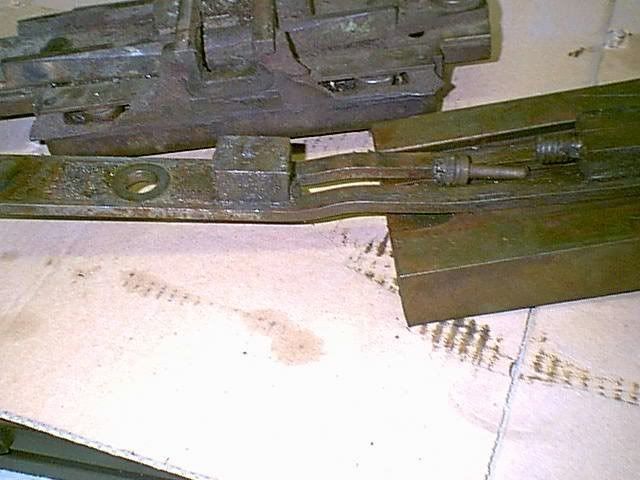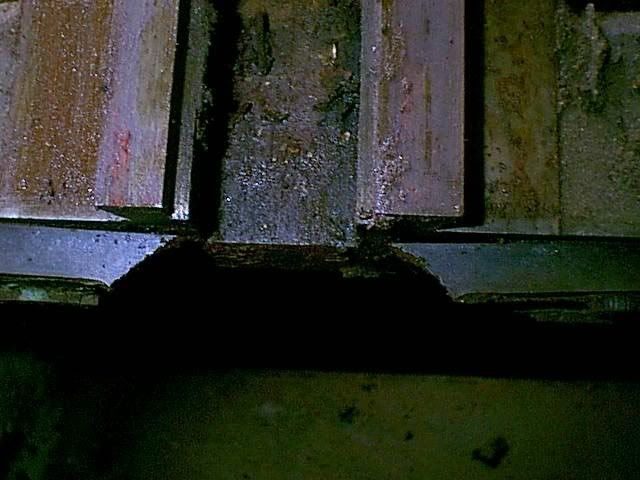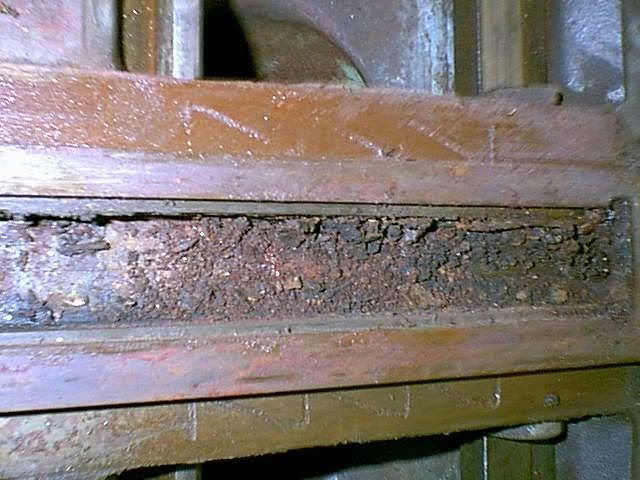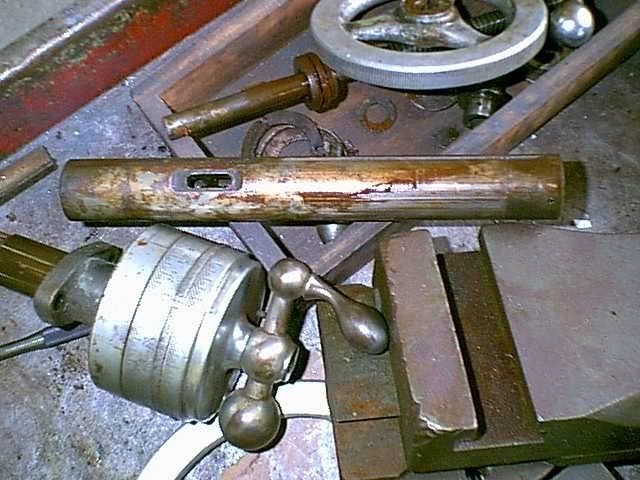 Harry
 
10-05-2007, 12:46 AM – Lca078
Hmmmm. What a mess. Are you cursing me yet, Harry?I'm glad the tailstock spindle popped out and looks straight. The cross-slide and taper attachment do need a lot of maintenance-I hope the cross-slide is straight and servicable. Sounds like you may have a taper attachment base available elsewhere.
When I looked at the lathe, the three main concerns I had were (in order of most concern to least) 1)the headstock thread/feed selector was unresponsive, 2)the electrical system was untested, 3) the apron halfnut and forward/reverse handles were stuck. Sounds like the one of most concern, IMHO, is okay. I'm hoping the half-nut and forward/reverse are just wedged up against a stop and nothing's actually broken. On my Series 62, there are numerous apron interlocks that prevent the power feeds being operated when the half nut is engaged. I can see where a hard simultaneous push on both these handles (from a frontal roll over) would try to wedge them against the interlocking stops and possibly jam up. I'm not sure of the EE apron.Have you been able to look inside the electrical panels yet and determine if it's a 440/220 or 440 only machine? You should be able to tell if you pull off the back panel and see if the main transformer (#5 I think) has dual voltage taps. Since the headstock thread/feed selector is working, I'm now keeping my fingers crossed on the electricals. Let me know if you need any assistance.
One thing I'm certain of after poring through the 4 part article in Homeshop Machinist where Harry rebuilt his CK, this "wreck" as Harry called it,will come out looking and working like a new one.
Harry, I admire your skill and perserverance.
Dave
10-05-2007, 01:50 AM – beckley23
I ordered the electrical schematics from Monarch today, and asked about the initial voltage input-440. All the machines I've gotten out of that mfg have been 440, except the 1st EE, which because of the replacement drive had to be 230V.
When I saw the seller, early last week, I was able to get the apron feed reverse knob to move, with the aid of a prying screwdriver.
I've opened up the electrical compartments for a look see, and with the exception of the module compartment under the headstock, which needs a real good cleaning, the rest looked pretty clean. I did notice a couple of burnt wire connections that will get looked at. From a casual look at some of the wiring, it seems that there has been some rewiring
The compound rest screw backlash is explained by a missing thrust bearing, but the cross feed nut and screw, and the same for the tailstock, are shot(not a real surprise). All in all, it's about as I expected.
The tailstock and the TA are my biggest concerns, mechanically, and the electricals will be inspected before the power is applied with "crossed fingers".
Accuracy checks have not been conducted, the lathe is going to be whole lot cleaner before they are conducted.
Rex, your offer of assistance is appreciated, and I'm sure there will be questions.
Harry
10-06-2007, 02:43 AM – DTCInventr
Rimcanyon or Beckley: I would be interested in purchasing a taper attachment in any condition. If it turns out that either of you has one for sale, please contact me at 
justinvest_8@msn.com
11-03-2007, 12:45 AM – beckley23
During the past month, I've taken things apart when I got the chance. "Wreck" is the correct description, and I think it's more mechanical than electrical.
Got the motor out, it's at the motor shop for a once over, but the backgear box had a bad gear. It was the second reduction pinion driving the "bullgear". I made a new one this week out of 4140PH, 14DP, 14-1/2*PA, 24 teeth. It will be noiser than a good original, but a lot better than what was in there. The original is on the left, the replacement on the right.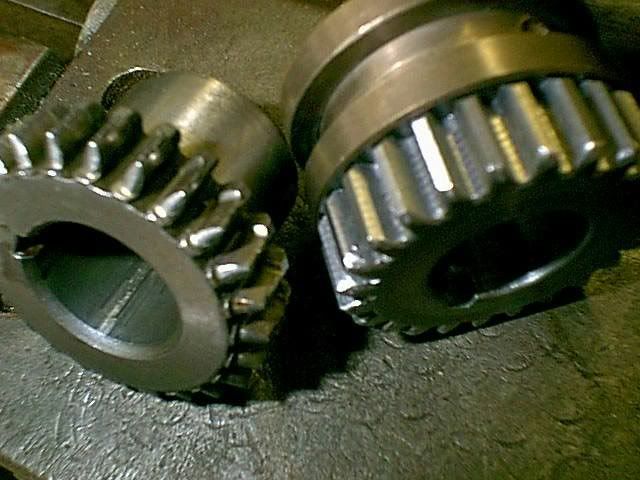 While I was taking the QC gearbox off, the leadscrew and feed rod have to come off first, I noticed a tremendous amount of wear in a 6-8″ section close to the headstock. I thought I had an explanation for the bad gear above, the 1st owners did a lot of threading. BTW, the other backgears looked good.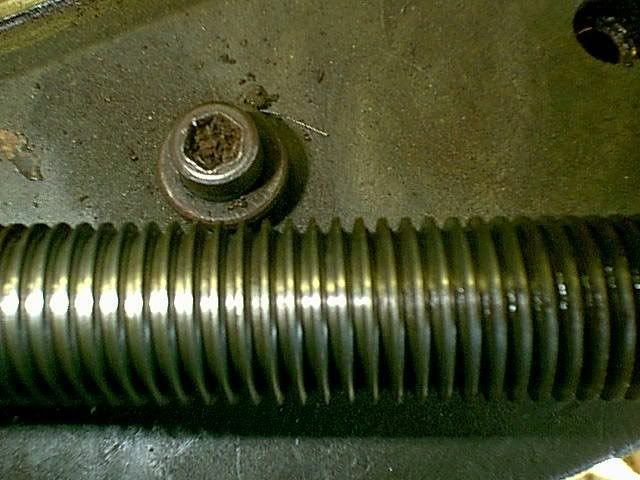 After the discovery of the leadscrew wear, I wondered what the half nuts looked like, so off comes the apron. I'm looking at the apron in the area of the worm to make sure the orietation on the worm key was down, an old habit from my SBL days, and I'm asking where the heck is the key, and the worm gear is about worn out.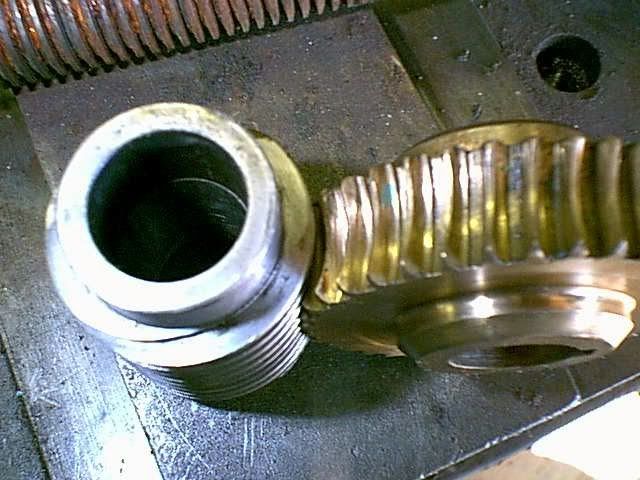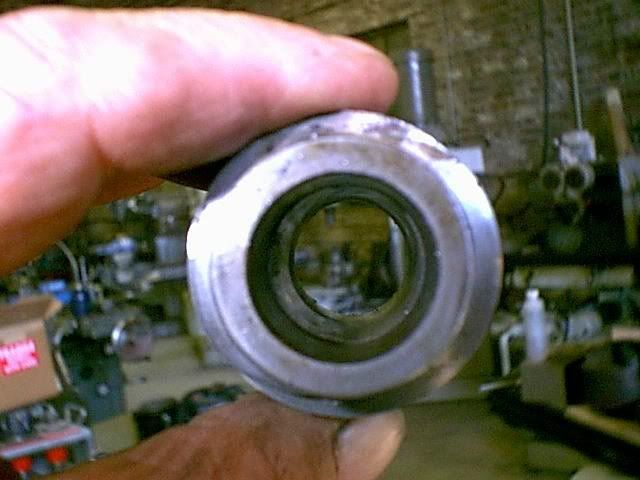 but the half nuts are good, very little wear.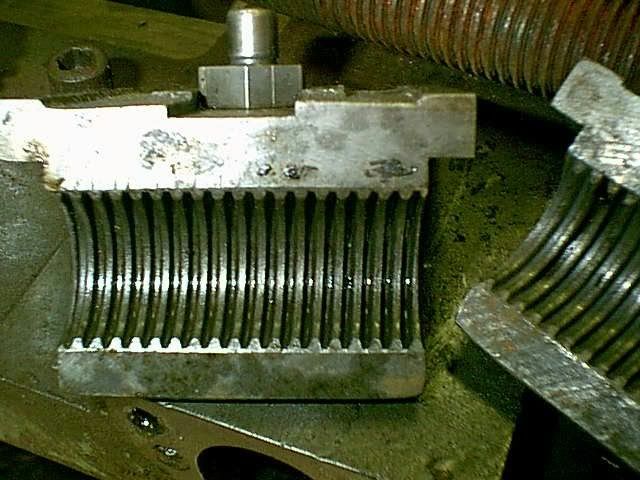 Now I'm really puzzled, what caused this particular set of problems. I know the worm had a repair attempted, the unthreaded ends are replacements, and this is supposed to one piece, not 3 or 4, and there was no trace of the key in the hole. I did measure the hole, and it is .765 to .767 when it should be .750. Good half nuts, bad leadscrew, I'm puzzled, and the worm gear shaft is seized. What next?
The seller told me he took the better of the 2 lathes, I'm beginning to think he got this lathe for the hauling, because it is obviously unuseable in the conventional meaning. The lathe I bought 6 years was definitely in better mechanical condition, and that was determined at my initial inspection of this one, excluding the broken TA and handwheel.
Anyway, I have located another worm and gear, and I'll make a new leadscrew. It won't be hardened and ground, but it will be very useable.
Harry
11-03-2007, 03:17 PM – Toms Wheels
What fun would it be if there was no challenge. Looks like someone made the parts to repair the worm, but never broached the slot, then just threw the lathe together. Must be a replacement set of half nuts, with the hardened screw worn as it is.
11-03-2007, 05:46 PM – rke[pler
That worm wheel looks like the one I pulled from mine with something like 75% of the teeth worn away. My worm screw was a bit better in that it had maybe a third of the key still in place. The "used" replacements from Monarch were more like 95% and 100%.I'd give monarch a call and ask them about the leadscrew, they likely have one in the boneyard that you can get for a song.Look *very* closely at the halfnuts, it sure looks like it may have gotten something embedded and is lapping at the leadscrew. I can't think of anything else that would cause that much wear.
11-03-2007, 06:44 PM – beckley23
Tom may be right about the nuts being a replacement.
I dug a couple foil type chips out of the nuts. I don't think they have been lapping, but as filthy as this lathe is anything is possible, and maybe the lathe went out of service just after the nuts were replaced.
Harry
You must log in to post a comment.